1,000 Words
How to get quality photos, infographics, and illustrations on a tight budget.

It's been said over and over: a picture is worth a thousand words. And it's true. Particularly for nonprofits. It can be difficult to spend the money on quality images when you are on a tight budget, but here are a few tips for investing wisely.
Photographs
Photography is a great way to convey what your nonprofit does. Especially for service organizations. If you do it right, capturing your staff and volunteers in action can show both what you do and the results for the larger community. If you can't afford to hire a professional photographer, make sure the staff member assigned brushes up on photography basics. Review this guidebook, Communicating Via Imagery, from Georgetown University fellow, Leigh Vogel, for more in-depth tips.
Focus on emotions
Humans connect with human faces. Make sure you include them in your photos, but don't line everyone up like a high school activity photo. Capture one person's expression or a crowd's enthusiasm while they are experiencing an event or activity. The emotion will shine through and motivate your audience to act.
Get the details
Sometimes the details can tell a greater story than a wide shot. Two people holding hands or a supportive smile can engage your audience. By not being too specific, the photo will connect the viewer to those details in their own life. The last time they held hands or received support will come to mind.
Infographics
We're in the information age and with the advent of Big Data, infographics have become a standard way to communicate complex sets of information. These types of illustrations can range from a simple factoid with an icon to a poster-sized graphic that takes an hour to absorb. Choose the right level for the subject matter, the audience, and your own level of expertise. Get inspired by these infographics at Good.is.
Start simple, then add depth
Infographics require hierarchy to make a point. Select the most important stats and make them the largest. Then go deeper and explain why those facts matter or offer up how your organization can change today's reality.
Allow your audience to connect with the data
Numbers and facts can be overwhelming to a reader. Make sure you include ways for your audience to connect to those stats. What do they mean to the larger community? How do they affect the reader? Can you offer up hope for change and realistic action items?
Illustrations and Graphic Elements
A series of illustrations or graphic elements like patterns can give your organization's brand a unique look without costing a lot of money. Hiring a professional will give you high-quality pieces to work with, but you can do it on your own as well. Take a look at your logo. Is there a shape that can be pulled out of it and repeated in a pattern? Does your organization work with any objects that are iconic? A food shelf could create a pattern with simple stock images of fruits and vegetables. A school could do the same with school supplies.
Build a library
Collect imagery that can be used over and over again. Use a different color from your organization's color palette or resize them to make them fresh for each new use. A library of illustrations will help save costs and will build recognition of your brand.
Be consistent
Brand recognition will require consistency. Make sure you're using the same color palette for all uses and that you're using one style of illustration. Don't use a watercolor here and a clean, crisp icon there. The more disparate your images, the more they will look like clip art.
Use these techniques to get the most out of the imagery you use for your organization. Just think of how much less you'll need to write!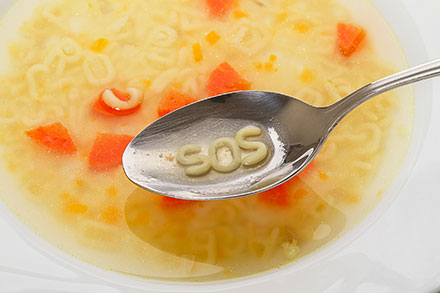 A handy guide to knowing which file type to use when.