Refreshing Your Website
How-to advice from an expert UI developer to help you plan and execute a successful update.

At 5 by 5 Design we believe it's possible to change the world by posing the right questions, listening to the honest answers, and following the path that emerges from the dialogue. Today's discussion highlights the importance of having an up-to-date website.
John Visser is a user interface (UI) developer known for being a reliable, approachable professional, and a tenacious problem solver. Specializing in WordPress, John has a keen interest in how people use the web to build strong communities and bring awareness to social issues.
We've asked John a series of questions about how organizations can evaluate and refresh their websites. Here's what he had to say.
1. How can you tell it's time to refresh your website?
If you're too embarrassed to give somebody your web address without first prefacing it with excuses, that's a pretty good indicator. Or perhaps it's been four or five years since the site has launched, and your company has changed its focus. Sometimes new trends or technologies emerge, and websites need to keep up—a good example of this would be "responsive design" after mobile devices gained popularity. Another thing to consider is that it shouldn't be a difficult process to update the content on your website—if it is, your site may be built on old technology, or simply not built as well as it could be.
Are you satisfied with the number of leads and conversions your site is funneling? Have you been told that your site loads too slowly, is hard to navigate, or the pages are too cluttered? Do your competitors have better websites? These are all good indicators that it's time to do something.
2. What should organizations consider when planning for a website update?
Begin with your current website as a baseline of what is working and what isn't. Look at your analytics and determine where people are clicking and where they're leaving. Think about what you're hoping to achieve with your redesign, and how you will measure success after it's launched.
Pinpoint your target audience and try to understand what their interests are so you can provide them with the content they're looking for. Have a budget and share it with your team—there can be multiple solutions to a problem and knowing what you're able to spend allows them to tailor their approach.

Consider the roles of the team. Are you able to provide copy, photos, video, and other content for the website? Do you have somebody who can keep the site updated (both on the front and back end)? If not, these are things to discuss with them.
3. What are some practical things you can do to make sure your site remains current?
When it comes to keeping your website current, there are two sides of the equation: the front-end (content) and back-end (technical stuff). Typically, the content can be updated on your own, whereas for the back-end, you are better off involving a developer.
Many websites nowadays use a content management system (CMS), like WordPress, making content updates as straightforward as filling out a form or creating a Word document. Periodically reviewing your site's content for accuracy, checking for any broken links to other websites, and writing blog articles on a regular basis are all good practices.
Much like your car, your website requires regular maintenance "under the hood" to keep it happy, healthy, and performing well. This includes things like making regular file and database backups, updating any core software and plugins to the latest version, and performing routine performance and security tests. Generally, these are things best left to your web developer.
4. What are some common mistakes you see organizations making with their websites?
I think the single largest mistake I've seen is the notion that after a website is launched, the work is done. That "set and forget" practice is fine for your thermostat, but not for a website you've just invested in. It's important to look at your site's analytics to see what's working and what should be tweaked. Be sure to keep your content fresh and absolutely keep your code current (CMS software, plugins, theme, etc.). That said, you have to be realistic about the role of your website and your team's bandwidth. Devotion to tactics over strategy makes for a lot of unproductive busy work.
Another thing I see is companies without a website marketing strategy. This isn't Field of Dreams, where if you build it, they will come. Or even if they do come, that doesn't translate into success. It's important to pay attention to how you are funneling traffic into leads, and those leads into customers and/or donors. I think it's also worth noting that some sites are too focused on selling, without enough attention given to building trust and providing valuable content that will get visitors on board with their vision and ethos.
Finally, avoid building an overly complicated navigation menu with overloaded, copy-dense pages. The attention span of the average website user is only 8 seconds! If you don't make it easy for them to find what they're looking for, and hook them quickly, you're going to lose them.
5. Are there any best practices, tools, or techniques organizations should consider when getting ready to refresh their website?
Before you begin, it's important to establish the team for the design, development, strategy, and content of the website. Sometimes that means four people, although often it can be done with two (a designer/strategist and a developer) if you're creating your own content. The key is to avoid having too many cooks in the kitchen while working on the project, and know who will be leading the team, as well as who the decision-makers are.
Give your current website a thorough audit, or have your web team complete one, which will give you an inventory of what you have to work with, and insight on what is currently performing well and what is not. If you have analytics to look at, see what your traffic, conversions, and bounce rates look like. See what people find useful on your website, and what you might want to remove. The final part of your audit is to review your current content, particularly your copy. Is it still relevant? Does it convey the right message?
It's easy to think that you know what your audience wants when it comes to your website. The truth is it's just hit or miss unless you ask them. Conducting customer interviews and performing user testing are good ways to find out their browsing habits and where there might be any points of frustration. Using what you learn here will help you greatly when considering your website's redesign.
Setting some specific, realistic, and measurable goals will guide your decision-making and help tell you whether the redesign was a success. Your audit will uncover the shortcomings of your current site; so, that's a good place to start when setting goals.
From all of this information, construct a new sitemap of the pages and sections on your new site. Use what you've learned during the audit to determine what pages should be reorganized, removed, or added. This would also be a good time to consider your "user flow" or marketing funnel. What's the journey you want a first-time visitor to make in order to turn them into a qualified lead?
After the launch of your new site, be prepared to do some more customer interviews, user testing, and analytics reviews to ensure that you've resolved the issues you intended to fix. Compare your new metrics with the pre-launch numbers, benchmarking leads, conversion rates, and site speed. These efforts will help continually improve your site's user experience, lead generation, and overall effectiveness.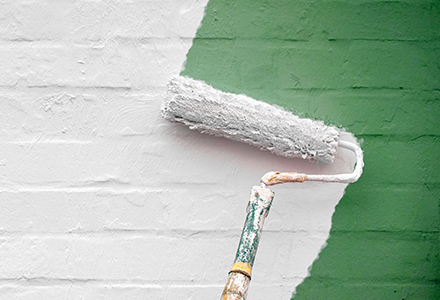 Find the right balance of brand work you can do yourself and when you need help from outside your organization.