Launching a Brand with Your Employees

Sara Dechowitz explains how to build a brand from the inside out by tapping into internal culture.


At 5 by 5 Design we believe it's possible to change the world by posing the right questions, listening to the honest answers, and following the path that emerges from the dialogue. Today we're learning how to use your brand to inspire your employees.

Sara Dechowitz is director of marketing at American Office in Baltimore, Maryland. As experts in building better workplaces, the team at American Office knows firsthand how important culture and purpose are to employees and to employer productivity alike. Sara's experience in leading teams to live the brand is proving very valuable as American Office has recently launched a brand update. We've asked Sara five questions about how it's going and what advice she can share for others. Here's what she had to say.
1. How has your brand update influenced your employees?
Everyone has embraced it. We're using it as a catalyst to really engage people on a cultural level and get them excited about our brand.
The work we've done with 5 by 5 Design took what we were saying about who we are and made it so much better. We now have a cohesive way to share what we do with internal and external audiences and the tools that we develop with this refined content will no doubt help us generate new business.
2. What tools, tactics, or techniques have you used to get your team on board?
We're in the midst of launching a "build your own sales packet" post card series which will allow a sales person to create a custom client package with language specific to each our our vertical markets. With 14 different messages (and plans to keep adding more) this will allow us to create more custom content.
We're also trying to keep the energy going with one new brand related announcement/event each month. For May, it's an initiative to get involved with community service.
And, stay tuned for our company picnic (another new brand rollout touchpoint for July). We'll have awesome t-shirts with our new branding for everyone and we're highlighting individuals that truly help to make spaces worthy or your best work.
3. What has been the biggest challenge in launching your new brand with employees?
It's always a challenge to get people to adopt new branding—but in this case we're pushing internally for people to be brand ambassadors. So, the challenge is finding the right people who embody who we are and what we do and challenge them to share internally.
4. How do you encourage employees to live the brand every day?
We started a new incentive called "AO Bucks." Employees receive credit they can use in our Employee Store (also a new initiative) to purchase AO gear. By rewarding people for an awesome job and appreciating good behavior and a positive attitude, we're helping reinforce positive culture. And by giving people the opportunity to select whatever AO branded gear they want, we're creating brand ambassadors (and hey, we all look good wearing it)!
5. Now that employees are engaged with the brand, have you seen it ripple out to customers?
This is still a work in progress. We've used the rebrand to update our proposal templates and process and that has been extremely well received. As we continue to update our physical spaces with new branding and create more tools for our sales team to use to develop new business, I definitely think there will be a giant ripple.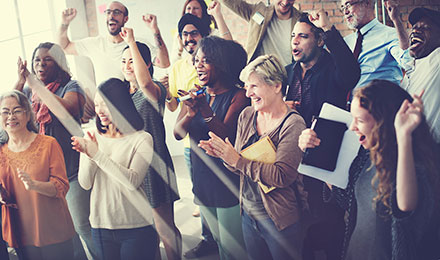 A few techniques you might not have thought of to get your employees on the brand bandwagon.