You Don't Know What You Don't Know
How to look outside to get the most out of your internal branding process.

You might be your brand's resident expert, but chances are you have some blind spots that could be impossible to uncover if you don't embrace a collaborative process to discover insights from the outside.
Finding out what you don't know can be difficult. Here are three ways to gather outside perspective to help you reveal what's beyond your internal view.
Customer research
A reliable method to uncover what your customers want and discover what they think about your brand is to simply ask. Depending upon your industry, this might be done with some simple customer surveys, some qualitative interviews, or you might want to engage in some broader consumer research to tap into new audiences you haven't reached yet. Either way, it's important to factor in customer voices and opinions when looking to update or launch a new brand rather than assume you know what customers want.
Competitive audit
Taking a look at your competitors and the industry at large can uncover a few important things. First, it will give you a basis for the norms and table stakes of the products and services in your industry. Second, you might uncover some best practices others are doing that could be worth adding to your brand experience. And finally, it's an important step to take to make sure in the end your brand has something no one else is offering. If you aren't providing something better, different, or more relevant than your competitors, a brand refresh isn't going to solve your problem. Instead, you might need to invest in research, product development, or expanding into a new category or an untapped market to sell your product or service in a new way.
Outside expertise
Another valuable place to get outside perspective is to engage the services of external experts. Consultants with an expertise in branding, research, your market, or something else relevant can help push you in new directions. They may ask the hard questions, spark new thinking, or add a new bit of energy to your team. These can all be helpful means to break out of old habits and accomplish new results.
Once you've taken the time to look outside your organization to uncover new insights, you can confidently apply what you learn with your internal knowledge and know-how to build a brand that will reflect the best of both internal and external worlds.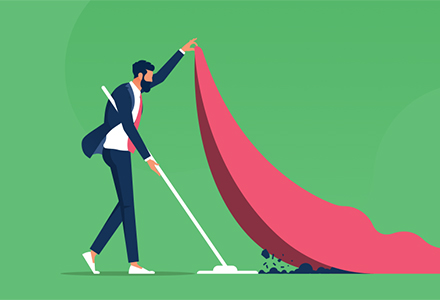 Your brand can't move forward without addressing some unpleasant issues. Here's how to get started.