Why Your Brand Needs to Reflect Your Culture
Keep company culture in harmony with your brand.


With the economy on the rise and a new focus on recruiting and retaining top-notch employees, workplace culture seems to be a topic of high interest lately. But did you know that your culture is directly tied to your brand?
Align your culture and your goals
To have an accurate brand that reflects all that you are as an organization, you need to make sure your brand incorporates elements of your true culture. At Intereum, this is something we understand on multiple levels.
First, we are in the business of creating inspiring places—taking the ordinary and turning it into something extraordinary. This is a key component in creating effective workplace culture. Second, we recently realized our own business had evolved and it was time for the brand image to follow suit.
The goal of our brand refresh was to create a consistent, brand-driven experience for all clients—creating a memorable story by fusing together the many components of our company. A second goal was to create a stronger connection between our brand and our iconic partner, Herman Miller—a company with a strong reputation for workplace design. In a time when research and insight so critically impacts workplace design and company culture, we chose to more closely tie our position to this unique value we provide.
Change your environment, enhance your culture
A business's environment is a key element of the culture of the organization. If done well, it can support the core purpose of the business, it can bring humanity and collaboration into the workplace, and it can impact the bottom line with workflow and overhead efficiencies. When space design fails to support purpose, business results are likely to suffer—critically impacting overall growth and the success of an organization.
Live your brand, drive your culture
As part of our rebranding process, we paid special attention to the importance of our environment as a core ingredient in our culture. Beyond thoughtfully rearranging our furniture, we set out to create a Living Office—a crucial component to empower our team members to work with flexibility, integrity, and the right tools at hand. And it's working for us. In fact, Intereum has received the Star Tribune Top Workplace award for the last two years in a row. That's saying we not only talk the talk, but also we walk the walk when it comes to creating a company where people choose to work.
Our environment is specific to our culture. For your organization, the solution would likely look much different. That's because culture is a feeling; it's something you can sense and see when you first walk into a building. The space, the behavior, and the enthusiasm—all these components radiate the unique culture of employees. And your brand should consistently reflect all of this as well.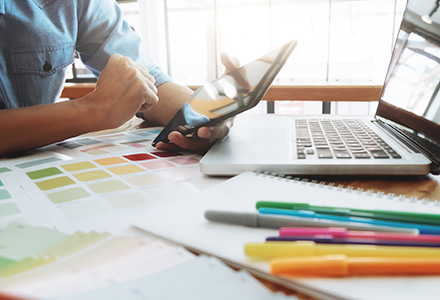 Care and maintenance of your brand is critical to keep it relevant to your customers.