Clear Communication Between Teams
Advice from a marketing expert who's known for her ability to get everyone on the same page.

At 5 by 5 Design we believe it's possible to change the world by posing the right questions, listening to the honest answers, and following the path that emerges from the dialogue. Today's discussion focuses on coordinating communication between different teams and how organizations can make sure everyone is on the same page.
After nearly two decades of working in corporate and nonprofit marketing, Sarah Hilton founded the marketing agency, Howard and Rose. She works with small business owners, creative entrepreneurs, and nonprofit leaders to clarify their marketing objectives, organize their content and systems, and strategically identify and tackle special projects and priorities from a practical marketing mindset. We've asked Sarah a series of questions about coordinating communication between various groups. Here's what she had to say.
1. What are the benefits of creating effective communication between various teams or departments?
Everyone benefits from effective communication, whether the objective is to share information, solve a problem, advance a project, or strengthen a community. When various teams and departments (and levels of leadership!) understand what each other are working on and the challenges they are facing, they are better able to draw connections, make meaningful contributions, and feel part of the whole. Effective communication smooths the path and can make all the difference when a project gets stuck or encounters a roadblock.
2. How do you proactively prevent different teams from working in silos?
In addition to the many benefits of effective communication, in my experience, the best way to avoid working in silos is for the individuals within those teams to get to know each other. I used to get to know people because we ate lunch at the same time, or we sat near each other in an office. Another good way to build relationships between teams is for individuals to come together either on a shared initiative or something less formal, like a book club, that meets regularly at a specific time. In an increasingly remote working world (and in very large companies), meeting people from different teams may need to be rather intentional.
Creating spaces where individuals from different teams come together—to plan, to converse, to coordinate—is really important, whether that involves working groups or project committees or daily standups. When someone from marketing has a friend in compliance or someone in one sales region has a mentor in another sales region, opportunities to share ideas and perspectives start to materialize.
3. How can organizations set goals and create schedules for coordinating all of their internal teams?
Successful tactics may vary between teams and initiatives. I would suggest setting goals, building out a schedule of various tactics (to see what works and build upon what you learn), and identifying a representative from each team (in addition to the team leaders) to provide feedback, report on progress, and identify obstacles along the way. If the goal is, for example, for everyone to better understand the new HR policy, tactics may be different than if the goal is to have a more productive flow of communication between marketing and sales.
Putting together working groups and project committees (and specifying in advance if their role is to help solve problems, or to implement decisions already made, or to gather and report feedback) can spread the sense of responsibility and strengthen the effort. If the participants represent different teams, this will also begin to break through the silo walls.
4. What are some common challenges organizations face when trying to increase communication between groups?
Generally speaking, people see change as difficult. Additionally, there can be a natural tendency for teams, focused on shared objectives and facing similar challenges, to feel that their skills and perspective and experiences are unique to them and misunderstood by their colleagues.
Increasing communication (by way of more messages and feedback loops) can feel like a burden or an interruption, while encouraging communication (by way of new tools or meetings or events) can feel forced. It may help to explain why these changes are occurring, to allow for some level of opting in (or out), and to demonstrate positive outcomes of the effort when they occur.
5. Are there any recommended tools or services organizations can use to engage and connect different teams?
There are constantly new tools and services to help people connect, whether an organization is working within Microsoft Teams or embracing Slack channels. In my experience these and other tools are most effective when you get large scale engagement, and that can be hard to achieve unless teams are really rallying around a project or initiative.
One approach that may help, and this will sound familiar, might be to engage the individual to encourage the community. Invite team representatives to a project kickoff, identify team members to serve as ambassadors for a new initiative, or simply reach out to individuals on different teams and in different roles to ask how they feel a tactic is working or if they've heard any opinions from their colleagues. The larger the group, the harder it is to get real engagement or feedback; we've all experienced a room full of people (or a webinar full of attendees) being asked for ideas and responding with silence!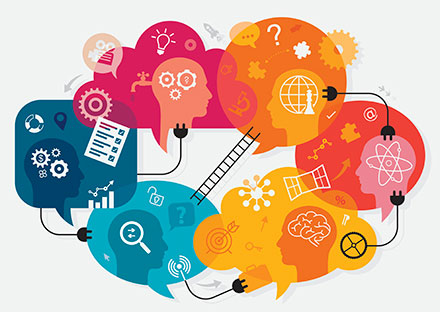 Everyone in your company affects your brand. Here's a brainstorming technique to get them all involved.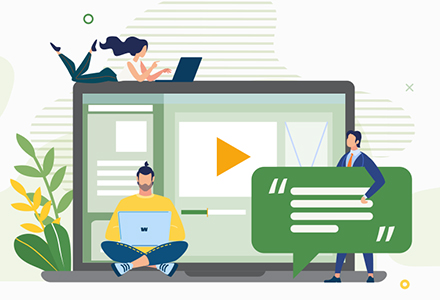 Expert advice from inside a big brand to help you build trust with clear and transparent messages.