Supplier Diversity in the Marketplace
Why a diverse supply chain is good for your business and for your brand.

At 5 by 5 Design we believe it's possible to change the world by posing the right questions, listening to the honest answers, and following the path that emerges from the dialogue. Today's discussion highlights the importance of diversity in the workplace and offers tips from a local supplier-diversity advocate.
Sarah Arnold is the Regional Director of the Women's Business Center at the WBDC's Twin Cities satellite office (WBDC-Twin Cities), which serves Minnesota, western Wisconsin, and the Dakotas. Sarah's team provides WBE certification services, access to procurement opportunities with corporate partners, and assistance in building capacity and sustaining profitable growth.
Sarah's history of local leadership as well as her current role with WBDC give her special insight into the supplier diversity market. We've asked Sarah five questions about supplier diversity. Here's what she had to share.
1. Why is supplier diversity important to businesses and organizations?
As the spotlight on systemic racism and inequality roils Minnesota and communities across the United States, Supplier Diversity programs are more critical than ever. Research affirms an inclusive procurement strategy delivers broader societal benefits by generating economic opportunities for women, people of color, and other underrepresented communities.
Besides being the right thing to do, an inclusive procurement strategy widens the pool of potential suppliers. It promotes competition, which can improve quality, reduce costs, and increase innovation, contributing to stronger financial performance. This is why Supplier Diversity programs are so critical to ensuring vibrant, thriving communities for all.
2. What role does the WBDC play in the supplier diversity market?
The Women's Development Center (WBDC) is a 501(c)(3) nationally recognized leader in the field of women's economic development and is the Midwest partner organization to the Women's Business Enterprise National Council (WBENC). The organization was founded in 1986 to provide programs and services to support and accelerate women's business ownership and strengthen women's impact on the economy by creating jobs, fueling economic growth, and building thriving communities.
The WBDC works with over 100 corporate partners agency-wide to support their strategic priorities, strengthen their supplier diversity programs, deliver customized programs and events, and strengthen their diverse supplier pipeline.
3. What is WBENC certification and how does a business become certified.
WBENC certification is open to all businesses at least 51% owned, operated, and controlled by a woman or group of women. The process for becoming certified includes completing an online application, providing supporting documentation, a site visit and business owner meeting, and review by the certification committee. For additional information, please check out the following links: WBENC Certification FAQs and required documentation.
4. How might certification help your brand?
WBE certification is a powerful tool to help you grow your business. The WBENC certification logo is highly regarded, and as a certified WBE, you can use the WBENC certified WBE seal on your marketing materials.
WBE certification creates access to supplier diversity and procurement executives at hundreds of major US corporations and federal, state, and local government entities that accept WBENC certification. Large corporations and government agencies are focused on increasing their supplier diversity spend. They are actively working to identify certified WBEs and other diverse suppliers. The WBDC facilitates formal and informal networking and business matchmaking opportunities between certified WBEs and our corporate and government partners.
The WBDC delivers a robust assortment of programs and services to help certified WBEs build capacity. Certified WBEs have access to our library of online webinars. Also, the WBDC provides access to mentoring, education, and subject matter experts. We also offer various workshops and keynote at WBENC national events.
5. How can businesses and organizations connect with WBENC-certified and other diverse suppliers in their industry?
If you are WBENC certified, you receive automatic inclusion in WBENCLink, WBENC's internet database of certified WBEs, accessible by WBENC's Corporate Members and other certified WBEs across the country.
Corporations, government agencies, and non-profit organizations that have a supplier diversity program or are in the process of starting one are eligible for corporate membership with WBENC. Corporate membership offers numerous benefits plus access to our searchable database of more than 17,000 certified WBEs.
If membership isn't a fit for your businesses or organization, you can connect with diverse suppliers through formal and informal networking with both business owners and supplier diversity experts in your industry. It is also beneficial to promote your eagerness to work with diverse suppliers by encouraging them to apply for RFPs and other opportunities with your company.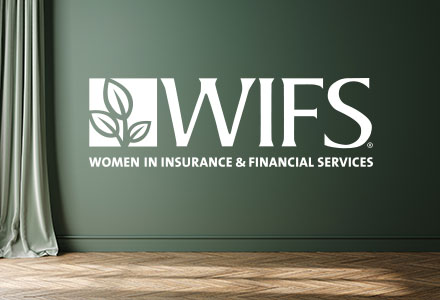 5 by 5 Design to present at the Women in Insurance and Financial Services (WIFS) local chapter meeting.