Mission-Driven Branding
David Kennedy-Logan shares insights on connecting your brand to your mission.

At 5 by 5 Design we believe it's possible to change the world by posing the right questions, listening to the honest answers, and following the path that emerges from the dialogue. Today we're talking about mission-driven branding.
David Kennedy-Logan is a social-impact and mission-driven communications strategist. Over the past 20 years he's worked in digital (and analog) engagement for a variety of Twin Cities nonprofits, including MCBA, the Walker Art Center, the McKnight Foundation, and the Marcy-Holmes Neighborhood Association. He recently joined Healthy Building Network—working to realize an environment free of hazardous chemicals—as chief communications officer. Here's what he has to say in response to our questions about branding for a mission-driven organization.
1. What unique challenges do mission-driven organizations have with branding and communications?
Nonprofits often don't have the budget, know-how, or time to do extensive advertising and awareness-raising campaigns to promote their work. Needing to stretch an already-thin communications dollar, branding efforts are typically not a top priority. Also, unlike most (or some) corporate or for-profit enterprises, a nonprofit's mission can be more difficult to reduce to a succinct visual, logo, or tagline, making it a challenge to establish the essence of the brand in the first place. Finally, in the social impact sector, I believe there remains some skepticism toward the argument that "branding" is a worthy endeavor to allocate resources for. It can sometimes still be seen as a profit-driven undertaking borrowed from the world of corporate advertising, although this limited and outdated view is not nearly as pervasive as it used to be.


2. Why is it important to connect a brand to an organization's mission?

Because it helps the organization accomplish its goals. To use a real-world example: At the Marcy-Holmes Neighborhood Association (MHNA) in southeast Minneapolis, where I work on brand strategy, public relations, and community engagement, the organization plays a vital role in distributing important and time-sensitive information to our resident members. In many cases the information pertains directly to safety, crime, livability, and other fundamental quality-of-life issues. It is a very real problem for us and for our audience if anyone feels left out, ignored, or otherwise disconnected from our messaging. A brand that connects strongly and immediately to an organization's mission helps to make and reinforce that connection. This same kind of information "pipelining" also can smooth the way for effective fundraising, event planning, membership development, and any number of other mutually reinforcing relationships.
3. How do organizations connect their mission to your brand presence?

In J.K. Rowling's Harry Potter universe, a portkey is "an object enchanted to instantly transport anyone touching it to a pre-arranged destination." (That's according to harrypotter.wikia.com.) In the books, this lets wizards and witches teleport just by grabbing onto an enchanted broom or old boot. In the muggle world, a well-defined and well-maintained brand functions just like a portkey: A glimpse of the logo, wordmark, tagline, or even just the branded color palette instantly brings to mind the mission, values, services, and the overall feeling of the organization being represented. In all of the mission-driven places I've worked, I've seen the dividends paid by treating the brand as the powerful symbol it is.
At the Walker Art Center, I helped design and launch a free weekly series with the intended goal to increase engagement among a defined demographic audience. With the in-house design and PR teams, we ideated a look, feel, and tone for the visuals and copy, and used it to announce and promote the offering. Many years later, the Walker's Free Thursdays program is still going strong.
More recently, I helped create a suite of informational documents for the MHNA board of directors and members. The materials presented community information culled from multiple overlapping categories—by committee, geography, and character area, for instance—and needed to, at-a-glance, draw viewers' in and be understandable. Printed versions formed a centerpiece display at our recent annual board meeting, and were very well received by scores of engaged neighborhood residents in attendance. Going forward, these now-engaged stakeholders will be reminded of their experience with our organization when they come across our logo. Perhaps not quite as cool as actual teleportation, but magical in its own way.
4. What common missteps have you seen?
The biggest one is a lack of established brand and style guidelines. These touchstone documents—shared with staff, designers, web developers, and anyone else who touches or packages content—can range in scope from a one-pager with the bare minimum of logo specifications (usually usage, design variations, and situational "no-no's"), to lengthier tomes that include primary and secondary color palettes, web and print layout requirements, and any number of other granular details. Not having these guidelines at all is a missed opportunity to protect and enhance a brand; some organizations have them but don't adhere to them, which is even worse, because then you have a self-inflicted and completely avoidable missed opportunity.
Whatever the cause, an inconsistently treated brand leads to inconsistent materials and messaging, which in turn creates confusion, apathy, or outright "brand blindness" in the target audience's perception. The goal is to increase the ratio of signal to noise, and brand guidelines help immensely.
5. What tools are most effective in helping connect the brand to the mission?

The most effective tool is equal parts willingness to experiment and a sense of discipline. This is work that rewards a creative problem-solving mindset. Fortunately, there are a wealth of insightful, practical, and affordable (sometimes even free) web-based resources to help mission-driven and social impact organizations with this learning process. Some are related to the big picture and come in the form of reports, blog posts, or general theory and advice provided by associations or sector organizations.
The Nonprofit Technology Network (NTEN), for example, is one recurring go-to source for technology-enhanced brand strategy. Closer to home here in Minnesota, the Minnesota Council on Nonprofits also provides some useful information on the topic. On a more mechanical and practical level, there are also web-based tools and databases such as Canva, Infogram, Noun Project, Lynda.com, and myriad others that provide ideas, assets, and training related to brand strategy.
In my experience, one of the most effective and inspiring resources is other individual brand strategists. I've learned so much about this work from talking shop with other people who do it well. Above and beyond learning and executing the basics in-house, if it is in the budget, building a relationship with a trusted and productive creative firm that knows the organization is worth its weight in gold.
Did this spark an idea? Let's talk!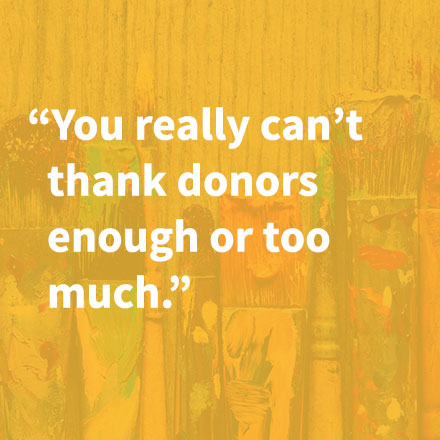 We ask Scott Mikesh of Art Buddies about keeping a nonprofit brand on track.