Find Something to Fail At
Push yourself to new limits by trying something new.


If you're not failing at something, you're not pushing yourself.
I am a children's writer with a passion for poetry. That doesn't pay much. In maintaining my freelance writing career, I sometimes forget to stretch myself. I focus on what I do well, what comes easily.
But this year, I failed spectacularly. I joined the color guard of Minnesota Brass, an all-ages drum and bugle corps (and my husband played baritone). At 44, I was 20+ years older than most of the flag spinners and the only one with zero experience. I've always believed if you work hard enough, you can do anything. Not so.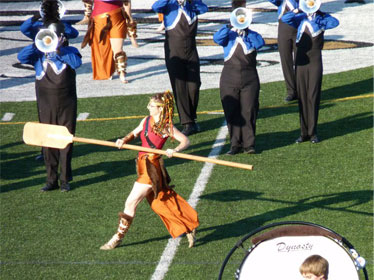 I failed every single day. Every single rehearsal. Every single show. In Viking costumes and carrying a giant oar or flag. There was no hiding when I failed.
Despite numb wrists, constant bruising, and the overwhelming schedule, I kept at it. Despite neglecting my freelance career, I kept at it. Despite knowing I would never excel at it, I kept at it.
And my failure was a success. By world championships, I made all my tosses, finally. My body was sore and damaged, but I had great shoulder muscles! And I learned that something worth doing is even worth doing poorly.
And we won the championships, the first time the corps has ever won in its 40+-year history.
This was a great experience for my husband and me, and I'll be looking for new things to fail at soon. I'm also risking failure more often in my writing. It's the only way to grow.
I hope you fail at something soon, too!
Laura Purdie Salas (laurasalas.com) is a freelance writer, and her most recent poetry collection is BOOKSPEAK! POEMS ABOUT BOOKS (Clarion Books, 2011). And if you're not familiar with drum corps, check out Minnesota Brass' 11-minute show condensed into a 1:15 video.